Blog
Posted by Hannah Bennett on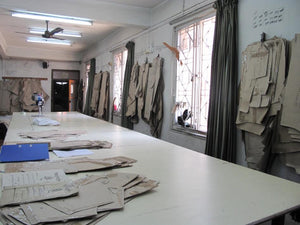 Throughout the years we have always strived to visit the workshops and factories where our stock is made whether we have bought directly or through a third party supplier.  This has been done to ensure we know exactly who has made an item, the conditions it was made in and ensure a fair price has been paid.  With no set regulation on the classification of Fair Trade regarding clothing we have deemed this necessary to ensure the items we sell are as fairly traded as possible.  The vast majority of the clothing we have made is through a few select...
Posted by Hannah Bennett on
Once again in 2018 we visited Pushkar in Rajasthan where we have a very talented tailor called Manu.  He works with his family to create unique clothing from recycled sari silk fabric.  He does not use cheap polyester or rayon, only pure silk.  Here we are choosing the saris we want to have made into a range of skirts and trousers.  Buying from Manu directly helps his family as his business is just him, wife, parents, brothers and their partners in a small courtyard house and workshop complex.  
Posted by Hannah Bennett on
Back in 2014 we first met the lovely Bam in Pashkar.  His business specialises in hand rolled incense sticks made from locally sourced natural ingredients.  His rose flavour ones are made from petals sourced in the many rose fields around the little city.  He and his sons run a little wooden shop near the sacred lake whilst their wifes and daughters sit and hand roll the incense on large stone blocks.  The men package the incense for retail.  We were impressed by the quality of the incense and its wonderful natural flavours.  To begin with we stocked a small range...
Posted by Hannah Bennett on
Did you know the average female size in the UK is a 16?  In spite of this the vast majority of ethical clothing suppliers refuse to stock anything larger than a 14/16.  This means they are not catering for 50% of the UK buying potential!  Frustrated at personally not being able to get clothing to fit due to my curves we traveled to India and Nepal in early 2018 with the purpose of convincing our tailors to make what we wanted in the sizes we asked for.  Whilst we had been asking for bigger sizes since day one of business many...